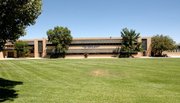 Craig — The Moffat County School District is targeting an August date to finalize details surrounding a proposed tax initiative that, if voter approved, would fund new school construction and renovations.
District officials received a preliminary sketch of the possible bond issue from the Fort Collins firm, Neenan Archistruction on Thursday night. The review laid out possible plans and scenarios for each of the schools considered for the bond issue.
Under consideration is a package estimated to be about $28 million for a new sixth- to eighth-grade Craig Middle School and upgrades to East, Ridgeview and Sunset elementary schools, and Craig Intermediate School.
The elementary schools and CIS would be converted to accommodate pre-school-to-fifth-grade classes.
School district Super-
intendent Pete Bergmann said Neenan Archistruction would come back to the board in July for a formal presentation on building proposals.
"They'll present a more specific plan," Bergmann said.
The board then would decide in August whether to pursue a bond issue and, if so, the exact scope and price of the ballot question.
"It'll give us another month to finalize the proposal," Bergmann said.
The school district has targeted the November general election to ask its question.
Moffat County Clerk and Recorder Elaine Sullivan said the school district has until July 27 to declare whether it intends to propose a question. The district then would have until Sept. 7 to submit its finalized question to the county for the ballot.
The July 27 deadline doesn't lock the district into proposing a question, Sullivan said.
The renovations to the elementary schools and CIS would essentially entail ventilation and heating system upgrades, some window replacement, roof work and some safety and security components.
The $28 million price tag is only an estimate at this point. Bergmann said the district would have a better idea of the costs needing voter approval once Neenan presents its more precise proposal.
However, of the estimated $28 million figure, district officials believe the new middle school would account for roughly half.
The school board also is considering hiring an owner's representative, a position that guards the interests of the district during the construction process, should a bond issue question be approved.
And, Bergmann said, the board also is laying the groundwork for a community-based campaign committee to lobby on behalf of the potential bond issue.
Joshua Roberts can be reached at 824-7031, ext. 210, or jroberts@craigdailypress.com.