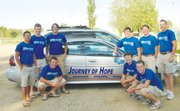 Craig — California to Massachusetts.
Ohio to Washington.
All on bikes.
Pi Kappa Phi fraternity brothers from across the country bike to create awareness about people with disabilities, a task dubbed a Journey of Hope.
After cycling through most of Moffat County, 27 Pi Kappa Phi fraternity brothers arrived in Craig on Friday afternoon as a part of that journey, which included spending time with Horizon Specialized Services clients.
It is the ability for the young men to see those they are helping - face-to-face - that has the most impact on Nick Kulik, public relations coordinator of Journey of Hope.
"Our philanthropy is hands on," said Kulik, who stays in contact with the Journey's headquarters and provides cyclists with the basics. "To be able to go across the nation and see all the people we have helped is amazing."
The Horizons' staff set up a Hawaiian luau for the cyclists, and the men replenished with a dinner provided by the Lion's Club of Craig.
"It's been a success," said Deb Schneider, Horizons Specialized Services day program coordinator.
But success does not come cheap.
In addition to hours of sweat left on the pavement, each team member had to raise at least $5,000, a standard some exceeded in order to spend time with some of their favorite people.
Trey Flowers, who raised $12,000, joined a Horizon client on the swings for a chat in Loudy-Simpson Park.
"I enjoy volunteering my summer for people with disabilities," Flowers said. "We do a lot of different activities along the way. We went bowling and even had a dance."
University of Texas Chris-tian Senior Alex Alessandro raised $13,000, but it is more than money that he values on this 3,000-mile long journey.
"It is a life changing experience," Alessandro said. "It is all about making a difference in people with disabilities' lives."
Mari Katherine Raftopoulos can be reached at 824-7031 or mkraftopoulos@craigdailypress.com