20 BIG movies coming this summer
1. "Spider-Man 3" - May 4
2. "Pirates of the Caribbean: At World's End" - May 26
3. "Harry Potter and the Order of the Phoenix" - July 13
4. "Transformers" - July 4
5. "The Simpsons Movie" - July 27
6. "Shrek the Third" - May 18
7. "Knocked Up" - June 1
8. "The Bourne Ultimatum" - Aug. 3
9. "Ocean's 13" - June 8
10. "Ratatouille" - June 29
11. "Evan Almighty" - June 22
12. "Hairspray" - July 20
13. "28 Weeks Later" - May 11
14. "Live Free or Die Hard" - June 27
15. "Stardust" - Aug. 10
16. "License to Wed" - July 4
17. "Rush Hour 3" - Aug. 10
18. "Surf's Up" - June 8
19. "Good Luck Chuck" - Aug. 27
20. "Fantastic Four: Rise of the Silver Surfer" - June 15
Source: Moviefone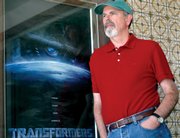 When Frank and Tammie Hanel began looking for a radio station to purchase in the late 1980s, they decided their new town had to meet certain requirements.
For Frank, it had to have a movie theater.
Because movies are more than just a two-hour diversion for Frank.
"It is the ultimate art form," he said. "It's sounds, it's lights, it's story, it's production, it's all of the above. : There is nothing like sitting in a movie theater with a big box of popcorn."
Hanel, who is the manager and owner of 93.7 KRAI and 55 Country, is not alone in loving the movie experience.
"There's quite a few people who go often," West Theatre manager Debbie Winder said. "(People) want to see movies on the big screen. Some movies they don't care if they rent : but if they're really big, popular movies, they want to see them on the big screen."
Winder cited flicks such as "Shriek 3" and "Harry Potter and the Order of the Phoenix" as the kinds of films large audiences make the trip to the theater for.
Hanel has other summer movies atop his list, including "The Simpsons Movie," and he is "very interested" in seeing "Transformers."
Hanel takes his love of movies beyond the big screen. When traveling, he will stop at movie and television sites, such as the stairwell of "The Exorcist" in Washington D.C.
But it's more than that.
While Hanel has spent the better part of his adult life working in the radio industry, his first jobs were at movie theaters in the late 1960s. His very first job was at the one-screen Liberty Theater in Wolf Point, Mont., and he worked at a drive-in theater in the summer.
"It was a hangout for me and all of my friends," Hanel said. "We just had the run of the place. We would go in and watch any movie we wanted, any time we wanted. : We saw every movie that came to town. It just got ingrained into me early on that movies were fun."
Working in the radio industry increased that passion.
Working in promotions at various radio stations back east, Hanel helped set up movie premieres, met and handled movie stars such as Tom Hanks and Matthew Broderick, had a director tell him not to do a premiere of "Roger Rabbit" because "it was a little too out there" and worked with Howard Stern's nemesis from the movie "Private Parts," a program director known as "Pig Vomit."
He also reviewed a premiere where he and only two other people were in attendance - television movie reviewers Roger Ebert and the late Gene Siskel.
"I just thought that was the coolest thing," he said. "I don't remember (what the movie was), but I remember the event. I thought at the time, 'This is pretty cool. Three people get invited to the screening, and it's the three of us."
The catchphrase at the end of Ebert and Siskel's show was, "See you at the movies."
And for Hanel, that may very well be true.