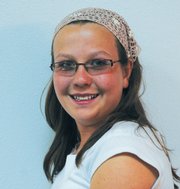 Morgan Shrum
Age: 12
Occupation: Seventh-grader at Craig Middle School
Place of birth: Denver
When did you move to Moffat County, and what brought you here?
My mom and dad moved here because my dad got a job in Steamboat
Describe your morning routine?
Well, during the summer, I get up, eat breakfast and do summer activities like go to the pool, ride four-wheelers. Summertime is my favorite.
How would your friends describe you?
My best friend Tina said that I am a good friend that she knows I will always be there for her.
What do you want to be when you grow up?
I want to be a doctor.
What are three things you can't live without?
My four-wheeler, mom, dad, and brother, and Nana and Papa
Which celebrity would you be?
Well I try to create my own personality so I'm not really into the celebrities. But, Maddie off "The Suite Life of Zach and Cody" on the Disney Channel
What's the worst reason you've given for breaking up with someone?
I am to young to date, but a lot of the guys in my school are not my type, so I say "Get away from me!"
If you had to give up one of your five senses, which would it be?
Touch. I like my taste too much, that's for sure.
What performer would you stand in line to gets tickets for?
Shania Twain, especially to see her sing "Any Man of Mine"
What movie are you ashamed to admit you love?
Sweet Home Alabama and Twister
What would you do if you won $10 million?
Buy a really expensive car to have when I turn 16. The rest I would put in savings to go toward college.
Favorites
Food: My grandma's homemade spaghetti and chicken noodle soup
Movie: Sweet Home Alabama
Sport to watch: Broncos, only because my mom makes me watch them.
Vacation Spot: Caribbean Cruise
TV Show: According to Jim
Spot in Moffat County: There is a really old mine near the Great Divide where my family used to explore.
Hobby: Lately it has been playing with my little brother. I can be entertained for hours with him, he is so funny.