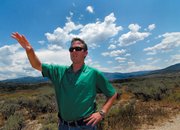 If you go
What: Open house hosted by Steamboat 700 LLC to gather public input on preliminary designs and planning for the 700-acre Steamboat West property, across U.S. Highway 40 from the Sleepy Bear Mobile Home Park.
When: 6:30 to 8:30 p.m. Thursday
Where: Olympian Hall at Howelsen Hill, 845 Howelsen Parkway
Call: Danny Mulcahy, project manager for Steamboat West, at 846-2192 for more information.
Steamboat Springs — From a two-track dirt road atop a shale-covered hill, vast open fields and hillsides unroll in every direction. A few rusty, dented trucks sit in a makeshift junkyard. The slopes of Steamboat Ski Area are a green backdrop in the distance.
The land won't be empty for long.
One day, these fields and hillsides will be a new community called Steamboat West, potentially filled with homes, offices, a town center, parks, trails, and "support retail" that could include a grocery store. Sitting north of U.S. Highway 40 and west of downtown Steamboat Springs, across the highway from the Sleepy Bear Mobile Home Park, Steamboat West is a 700-acre site that will be a focal point for Steamboat's growth during the next 20 years.
"This isn't a second-home neighborhood," Danny Mulcahy, project manager for Steamboat West, said at the site Monday. "This is for people who live and work in this community. The houses will have to reflect those prices."
Steamboat 700 LLC bought 540 acres of the property from Steve and Mary Brown in March for about $25 million. Steamboat 700 has an adjoining 160 acres under contract. The group is hosting an open house Thursday evening to gather input from the public about preliminary plans, designs and concepts for the site.
The event begins at 6:30 p.m. in Olympian Hall at Howelsen Hill.
Mulcahy said Steamboat West could include "a complete mix of projects" and will reflect the West Steamboat Springs Area Plan, adopted by the city of Steamboat Springs and Routt County in 1999 and updated in 2006.
"What I'm putting in front of the community will be a framework for growth," Mulcahy said. "The actual neighborhood designs will be an ongoing process for the next 20 years. :This is not something that will come out of the ground overnight."
Mulcahy said plans for Steamboat West will work with the site's hilly topography to avoid over-excavation. The site also includes a significant amount of wetlands.
"There's a ton of open space," Mulcahy said. "A very extensive trail network is planned."
Mulcahy said that in discussions with community members who live and work west of downtown, the "biggest desire" for Steamboat West is a grocery store, which could be built on the site close to U.S. 40.
Traffic issues also are a huge concern and will "essentially dictate the total density of this site altogether," Mulcahy said.
A primary road for the site will be the New Victory Highway, which could span the site east to west from Overlook Park to the Silver Spur subdivision. The Steamboat Springs City Council is scheduled tonight to consider a resolution approving a portion of that highway within city limits, from Downhill Drive to Overlook Park.
Steamboat West also will include a north-south road connecting U.S. 40 to Routt County Road 129, Mulcahy said.
Thursday's open house will kick off a lengthy public process for Steamboat West.
"We're really working hard to get forums set up so we can have a lot of work sessions about that area, so that people have an idea of what's going on," City Council President Susan Dellinger said. "It's kind of designing a town. :We have a chance to do a really good project out there."
The 700-acre Steamboat West site is bigger than 14 Wildhorse Meadows, the 47-acre development under construction on Mount Werner Road near The Tennis Center at Steamboat Springs.
"I hope to be annexed within a year," Mulcahy said. "We want to break ground on infrastructure as soon as we're annexed. We won't waste any time."