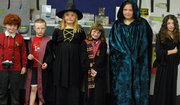 Craig — Dressed in a black Hogwarts' robe with a gold-and-yellow Gryffindor scarf thrown around her shoulders and with a stack of books in her arms, 10-year-old Marissa Butler looked quite similar to fictional character Hermoine Granger.
It helped the costume that Bulter showed off some of Granger's book-smart qualities by answering the first four questions of a Harry Potter quiz Friday night at K-Mart.
K-Mart manager Rod Turner estimated that Butler was one of about 100 people - most dressed as muggles - waiting inside the store for "Harry Potter and the Deathly Hallows," the final book in author J.K. Rowling's Harry Potter series.
Behind the customer service counter, were boxes full of the much-anticipated book, none of which could be open until 12:01 a.m. Saturday.
Butler had one hope for the final book: "I hope Harry doesn't die."
She was one of many waiting to see how the series ends. Early estimates show that "Harry Potter and the Deathly Hallows," sold a record breaking 8.3 million copies in its first 24 hours on sale, according to CNN.com.
Locally Harry Potter fans congregated again Saturday, this time for a Potter party at the Moffat County Library.
Eleven-year-old Amber Stillwell said she had "counted down the days" for the final book, adding that she didn't have any idea how the final book would end.
As for her thoughts on the library event?
"The party was really, really fun," she said. "You got to create things, and I really like to create."
Youth services director Linda Knoche estimated 30 to 40 children came to the event. The Potter party included trivia, games, a snitch hunt, prizes, snacks, as well as free lightning bolt tattoos.
"We just had fun," Knoche said. "I thought it was magical."