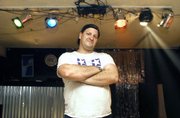 Craig — "I'll have eighteen Venti French roast coffees with a shot of willpower."
That is a phrase Ken Prescott is used to saying on a night like tonight.
That total equals a coffee for each hour KFMU DJ Ken Prescott will be up as the master of ceremonies at tonight's Craig American Cancer Society Relay for Life - an all-night event being held at the Moffat County High School track to raise funds to fight cancer.
"It takes a lot of caffeine and a lot of willpower to stay up all night," Prescott said.
But losing sleep to fight cancer has become a tradition for Prescott.
In 1998, when one of his fellow DJ's double booked himself in Grand Junction and Rifle, Prescott took over his Relay for Life gig in Rifle.
Nine years later, Prescott still is in high demand at the fundraising events.
"I have been doing them ever since '98, the rest is history," Prescott said. "I have been the emcee for the relays in Steamboat, Rifle, Fruita, Grand Junction and other cities around the state."
Why has he become a relay for lifer?
Cancer.
"My ex-wife was diagnosed with Hodgkin's Lymphoma Cancer," Prescott said. "I had to contemplate raising children without a mother."
The thought was too scary for Prescott to imagine.
It is why he got involved at a higher level. And after years of being involved, he wanted the Relay for Life to come to Craig.
"The Relay is growing popularity all over the state," Prescott said. "I was determined to get a Relay in Craig, because it is such a powerful community event."
And even though he's DJed more than 20 Relay For Life events, Prescott said butterflies still linger in his stomach.
"It is nerve racking. We want everything to go perfectly and be a success," Prescott said. "But the most important thing to remember is even a bad Relay is a good Relay.
"We are still raising money for cancer research and patient services."
While each Relay for Life team is tasked with raising at least $1,000 for cancer research, Prescott is in charge of raising the energy level.
If that takes playing "the Macarena" or the doing "the chicken dance" at 3 a.m., Prescott will do it.
"My job is to play the appropriate type of music that will keep the participants energized throughout the entire night," Prescott said. "Because cancer never sleeps and neither do I."