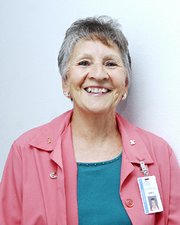 Age: 65
Occupation: Housewife
What should your business card say you do?
I help wherever I can.
Place of birth: Pagoda. It doesn't exist anymore though. There used to be a post office there.
When did you move to Moffat County and what brought you here?
In 1983. My husband got a job at the Colowyo.
Describe your morning routine?
I get up in the morning and eat breakfast - usually Great Grains cereal. Then I shower, read the Bible and start the day.
When you were a kid, what did you want to be when you grew up?
A ballet dancer and a sheepherder, at the same time. My brother would laugh and ask me, "What are you going to do, dance for the sheep?"
What are three things you can't live without?
My family, my eyesight, my hearing.
Which superhero would you be?
Mother Teresa, because she is such a neat woman with such compassion for everybody.
What performer would you stand in line to get tickets for?
The Gatherers, a gospel group.
What movie are you ashamed to admit you love?
"Shenandoah."
What would you do if you won $10 million?
Help my family and then give the rest to charity.
How do you feel about the shooting at the governor's office?
I am so thankful that the governor didn't get hurt.
Favorites
Food: Steak and potatoes
Movie: John Wayne's "Big Jake"
Sport to watch: Bull riding
Vacation Spot: Hahn's Peak Lake
Hobbies: Reading, cooking, knitting
Spot in Moffat County: Browns Park