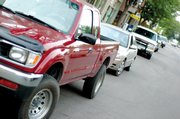 Craig — Have you ever competed for a parking spot?
Or parked illegally and accepted a ticket because you didn't feel like walking?
The average person can walk a street block per minute, according to Wikitravel.com.
This means the average person could walk downtown Craig from Fourth street to the Center of Craig in about three minutes.
That is too far for some.
With more traffic congestion and private parking lots, downtown business employees and customers are complaining about the lack of parking spots downtown, Downtown Books owner Carol Jacobson said.
Parking problems were the main issue discussed Wednesday at the Downtown Business Association's monthly meeting.
Downtown Business Association members said Craig residents lack of interest in walking a few extra blocks is just one of the problems contributing to the parking problem downtown.
Some of the issues contributing to the downtown parking problem, DBA members said are:
• Customers are not obeying the two-hour parking limit on Yampa Avenue.
• Downtown business employees are parking in customer parking spots.
• The public does not have the right knowledge because of the lack of parking signs around the downtown area.
But Jacobson is most concerned that parking spots are not being filled with customers.
"With new businesses and tenants, those vacant spaces have now become privately owned." Jacobson said. "The increase of employees reduces the number of public parking spots."
City Manager Jim Ferree is not complaining about the activity.
"It is a nice problem to have." Ferree said. "The recent traffic congestion shows there is an increase in business downtown."
Ferree is impressed with the involvement among the downtown business owners.
"They are communicating about the problem." Ferre said. "The feedback is positive, and I know they will find an answer to the parking problem."
Solutions mentioned to the parking problem were diagonal parking along Yampa Avenue, valet parking service, and marked parking spots along Yampa Avenue.
Ferre is developing a map of all public parking in downtown to make the public aware of legal parking spots.
But the solution that holds the brightest future is the addition of a crosswalk near the Community Budget Center, Ferree said.
The Budget Center is adding two handicap spots to its private parking lot.
"I think the crosswalk is a great idea for safety," Jacobson said "Few people go to the corner crosswalk when their destination is right across the street."
Mari Katherine Raftopoulos can be reached at 824-7031 or mkraftopoulos@craigdailypress.com.