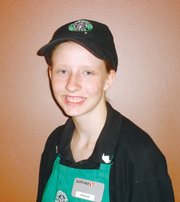 Craig — Anastasia Blackbird
Age: 16
Occupation: Starbuck Barista - One who has acquired some level of expertise in the preparation of espresso-based coffee drinks
What should your business card say you do?
Beverage server
Place of birth: Farmington, N.M.
When did you move to Moffat County and what brought you here?
My parents moved here for the job opportunities.
Describe your morning routine?
I wake up in come to work and prepare for the day. I make cream and coffee bases for our cappuccinos. Then I fill the espresso beans for the mochas and make iced coffee and tea.
When you were a kid, what did you want to be when you grew up?
Veterinarian
What are three things you can't live without?
My cell phone, computer and bicycle
Which super hero would you be?
I like super villains better, Cat Woman.
If you had to give up one of your five senses, which would it be?
Taste
What performer would you stand in line to gets tickets for?
KT Tunstall
What movie are you ashamed to admit you love?
Disney's Robin Hood
What would you do if you won $10 million?
Buy Montana, well as much as I could buy of it with that amount of money.
How do you feel about the iPhone frenzy?
Technology is going crazy right now, I won't buy one because there are too many capabilities the phone can do and I think it would break.
Favorites
Food: Cheesecake
Movie: Pirates of the Caribbean
Sport to watch: Figure skating
Vacation Spot: Medicine Bowl National Park, Wyoming
TV Show: Charmed
Spot in Moffat County: City Park