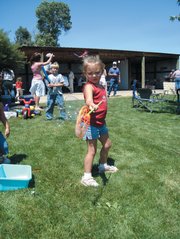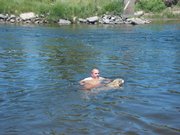 Craig — Craig residents and visitors celebrated the Fourth of July in a variety of ways, with the usual three-day holiday cut down to a one-day mid-week event this year.
Most people said their daytime activities were relaxing ways to spend the day before settling down later to watch nighttime fireworks being launched from Moffat County High School.
For Mary Fowler, whose husband George passed away in January, Wednesday was the perfect time of year to get the family together for a reunion that would also be a memorial for George.
More than 50 friends and family from California, Idaho, Wyoming and Colorado gathered at Loudy Simpson Park on Wednesday for the get together.
Fowler was glad to see Carl Wheeler from Arizona manning the grill.
"We are so lucky. We have the men doing all the cooking," she said. "We've got a good turnout. We'll be watching the fireworks this evening."
George Fowler, a Craig trucking business operator for 20 years, requested no services before he passed, so his wife began organizing the family reunion back in March.
She reserved the only picnic area that was still available for a Fourth of July event at Loudy-Simpson.
Beyond the park in the Yampa River, Adrian Egan and his dog floated near a sand bar.
The former Maine resident and current heavy equipment operator for Randy Booco in Hayden has been in Craig almost five years and decided to cool down before the afternoon barbecue.
"I'll be barbecuing with people at our house later. Friends that I work with," he said. "We'll probably watch the fireworks tonight."
While Egan's float was "totally relaxing," Craig resident Tom Johnson and his friends were taking a different approach, working up an appetite by tossing a football around in City Park.
"Just having fun with the day off," Johnson said between throws. "Tossing a little pigskin, barbecue later and then watch the fireworks and enjoy the day."
Johnson works in Steamboat Springs during the week, and appreciates the day off in the middle of the week.
"I have to go right back to work tomorrow," Johnson said. "That's all right though."
On the other end of Johnson's passes, were Lloyd Henson and Mike Armstrong.
Armstrong's wife Cathy was not only enjoying the holiday, but Craig as well.
"Everybody here is so nice and so friendly," she said. "There are deer everywhere. I'm checking out the sculptures and just enjoying life."
As with the others relaxing in the outdoors on the Fourth of July, the group in City Park is planning to "kick back" and let the city entertain them with a fireworks show at dusk.