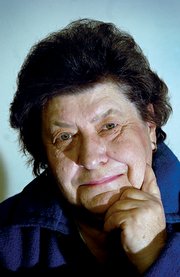 I'm thoroughly enjoying "Tales of the Old West Retold" by C.A. Stoddard. I'll review it in next week's column.
In the meantime, I'm noticing that during this hot weather our grandchildren seem content to find a cool place where they can pore over books, too. One book that has seemed to captivate them lately is an activity book that encourages the reader to observe carefully. Perhaps it even sharpens problem-solving skills.
"Magical Mazes," written and illustrated by Juliet and Charles Snape, is intended for younger children, but, as with so many other pictures books, older readers will enjoy it, too. Our 12-year-old granddaughter had fun with it, and the detailed maze illustrations grabbed my attention. I tried some of the mazes and had to check out the "Solutions" section at the book's end, where the correct pathways are marked.
The subjects of the mazes are fantasy characters such as gnomes, leprechauns, mermaids, trolls, fairies, genies and a famous monkey that's well-known to readers of the classics.
According to Chinese mythology, Monkey "hatched" from a stone egg. He came to be known for his magical powers quick temper, and impulsive, mischievous behavior, sometimes resulting in chaos.
In the maze, Monkey is sitting on a rock with his "hands" over his eyes. He's playing hide and seek with the animal spirits, and he has to find a tortoise, unicorn, phoenix and, last of all, a dragon. Can the reader help him?
What a maze it is, with an elaborate fence, bridges over waterways, a castle (that looks more like a lighthouse) and pathways into a hillside, some of them leading to caves.
There are stairways in the castle, as well, that lead to several levels.
Monkey and a portion of the maze are featured on the cover of the book.
In "The Tea Kettle Fairy," Little Winnie Wink has to find her way to Firbog's birthday party. So she leaves her tea kettle house, with laundry hanging on the handle, and starts out through a village of colorful homes. Most are mushroom houses.
What makes this maze, and others, so interesting is the stairways and ladders lead up and over some of the houses and other structures, sometimes connecting houses in this manner.
It's an interesting twist to finding ones way in a maze.
In other mazes, a leprechaun has to find a pair of shoes and leave them at a cottage, Tog Troll has to retrieve his mug from deep down in the mines, and a prince has to find a genie that's hidden in a cave full of pots. And there's a lot more - ten mazes in all.
Each maze is featured as a two-page spread. One has a fold-out section on each page, making it even larger. And besides the mazes, there's information about different kinds of "fairy folk and magical structures", plus the answer key.
It's lots of fun for hot summer days or anytime. Other books by Juliet and Charles Snape include: "The Classic Tales Maze Book" and "The Great Creepy Maze Book."
"Magical Mazes" is published by Harry N. Abrams, Inc.; Publishers, 1999. The cost for this rather large (tall) paperback book is $12.95. ISBN 0-8109-2926-0
Copyright Diane Prather/ 2007. All rights reserved.