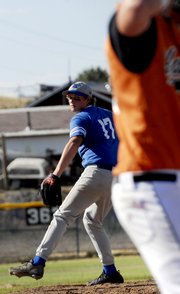 Craig — The Moffat County "B" Legion baseball team is youthful and learning, said coach Shane Camilletti.
"We're young," he said. "We have three guys that are incoming freshmen and four incoming sophomores that have been playing a bulk of the time."
The high school underclassmen make up exactly half of the 14 on the squad.
Fourteen games into the summer season, the Bulldogs have a 7-7 record heading into a Tuesday night doubleheader against Hayden.
"The kids are doing a heck of a job. Four of our seven losses are to an 'All-Star' team from Eagle."
Camilletti may be a new face in the dugout, but he brings years of experience to the baseball diamond.
"I've been associated with quite a few of these guys," he said.
Shane has been coaching his 14-year-old son Dylon for about six years and has two state titles and a Triple Crown championship to show for it.
Camilletti replaced Rich Sadvar, who stepped down at the beginning of the summer and continues to assist the skipper behind the scenes.
"Rich has been helping us out quite a bit," Camilletti said. "A lot of the things we run are from Rich's program. He's been great for the kids."
The Bulldogs travel to Steamboat Springs Thursday at 5 p.m. and return home next Tuesday.