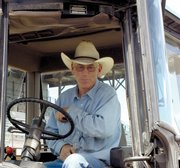 Craig — After the Little Britches Rodeo wrapped up Saturday night and young riders headed off with their folks to find dinner, the Moffat County Fairgrounds came alive with a different kind of performance.
A truck and tractor rodeo of sorts took place as crews began the work of preparing the grounds for the next day.
"We smooth out the holes with water each night," fairgrounds manager Bill Sixkiller said. "There's a little bit more watering involved when it's 100 degrees during the day."
Working on the arena from 6 to 9:30 each evening keeps the crew busy.
Sixkiller, behind the wheel of his John Deere tractor, was assisted by Mike Camilletti, who drove "the old water-wagon." It is a monster machine that hauls a massive water-tank while spraying an arc of water, while it maneuvers through the arena mazes.
The crews turn and water the dirt in the arenas all day as the rodeo progresses, grooming after each five barrel-racer leaves her mark. At night, the crew gives the grounds a deep soaking, with two doses of drenching from the water truck.
Sixkiller has help in the summer from Dick Sasges, who often begins work at 4 a.m. to prepare the fairgrounds, and Brandon Whitaker, another early arriver.
Years of on-the-job experience has made Sixkiller very aware of his surroundings.
"You have to watch out for the kids and horses when you're running equipment," he said. "I watch the horses closely, and if they look like they're going to spook, I shut her down."
Besides the four-day Little Britches event, the crews also set up for a family reunion and a birthday party picnic at the fairgrounds during the weekend. The pavilion is constantly booked for summer events.
The rodeo continues until Tuesday, after which the fairgrounds crew will have the Fourth of July off, but then it's right back to work Thursday because barrel racing begins Friday, and the 4-H expo follows that.
"That's all on top of the arena being used nightly for 4-H roping or gymkhana," Sixkiller said. "There's not much time off."