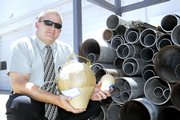 If you go
What: Fourth of July fireworks show
When: Dark, tonight
Where: Moffat County High School
• More than 1,000 shells, valued at about $8,000, will be set off tonight. The show is free and open to the public.
Craig — Capt. K.C. Hume, of Craig Fire/Rescue, carefully opened two boxes Tuesday afternoon. One contained a large, round 10-inch covered shell, and the other, a handful of its 4-inch baby brothers.
"We treat them with respect," Hume said at the fire station, "because they are explosives."
The shells comprise a small fraction of the 1,000-plus fireworks that will be launched into the dark sky tonight above Moffat County High School as part of the Fourth of July celebration.
The display, set off by the Fire Department, is scheduled to begin about dark. About $8,000 worth of fireworks - the city of Craig and Moffat County each contributed $4,000 - will be shot off during a 20- to 30-minute show, ending with a grand finale.
"They provide the funding," Hume said. "We provide the manpower."
The show, a free public event, has been a Fire Department exercise for at least 20 years, Hume said. The department acquires the fireworks after sifting through vendor bids, which are sent out in February.
Hume said the department is looking for "bang for its buck," though buying cheap shells in bulk quantities isn't necessarily the end goal.
"That's not the sole determining factor," said Hume, one of two certified pyrotechnics on the Fire Department. "We have to put some thought into it.
"All the vendors we deal with deliver high-quality shells that are visually appealing."
The department will launch 4-, 5-, 6- and 10-inch shells tonight, using wooden racks and metal tubes.
Hume said the Fire Department places safety at high premium during the display. He anticipates tonight's show will be entertaining for the crowd.
"We certainly hope so," he said. "We work really hard throughout the year to put on a good show."