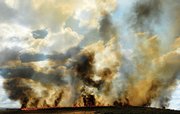 Craig — Hot and dry conditions led Craig Fire/Rescue on a record number of calls in July.
The department went on 50 calls for service in the month. The previous monthly record was 36.
"It was not the No. 1 call, but we ran on several wild land calls," Chief Chris Nichols said. "The temperature and extreme dry land conditions, that was one cause in the jump. We just ran on a lot of fire calls last month."
It wasn't just the volume of calls that put stress on the department, Nichols said, but a lot of "multiple hour" calls.
"Once we start running that with no full-time people, it starts putting a little bit of a burden on their primary jobs and primary employers," the chief said. "Luckily in Craig, we have a lot of employers who allow people to leave their jobs, or you would have to have full-time staffing."
Craig Fire/Rescue crew members are paid on-call. Crew members respond to fire calls, as well as vehicle crashes with injuries and cardiac related incidents, such as chest pains.
Craig Fire/Rescue has 24 firefighters. The goal is to be around 30, Nichols said.
The Fire Department is starting its recruitment phase for rookie firefighters for the 2008 year. Applications are available at the Fire Department and must be completed by Oct. 1.
Pending how far an applicant makes it through the process, there is the application, an interview by a selection panel, an agility course, a physical, follow up interviews and then final selection.
"We try to go through our selection process and try to have the entire process wrapped up by Jan. 1, when we start our next year's probationary firefighting training program," Nichols said.
The Fire Department pays for training and equipment costs for those who qualify. The probationary period during training lasts one year. In that time, applicants would receive Firefighter 1 Certification, HazMat Operations, first-aid training, engine operations and driving training.
"If you have ever had the desire to serve the community in a fulfilling way," Nichols said, "this is a great way to get involved."