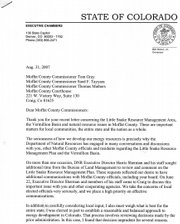 Craig — A letter from the Moffat County Commissioners in mid-July protesting Gov. Bill Ritter's intentions to prevent oil and gas exploration in the Vermillion Basin has resulted in a response from the governor.
An Aug. 31 letter from Ritter to the board of Moffat County Commissioners mentions previous visits to the county by Colorado's Department of Natural Resources Director Harris Sherman, who was seeking additional time from the Bureau of Land Management for more communication between the commissioners and the governor's office.
The letter said the decision made by the previous administration to allow drilling in Vermillion Basin was "imprudent" for several reasons.
"My administration believes that the recoverable gas resources in the Vermillion Basin are relatively modest," the letter states. "The BLM estimates the Vermillion Basin contains only 2 percent of the high potential gas reserves in the Little Snake Resource Area."
Ritter goes on to say that Vermillion Basin enjoys pristine status as one of Colorado's "truly special places," and should remain off-limits to oil and gas drilling during the lifetime of the BLM's proposed Resource Management Plan, estimated at 15 to 20 years.
"The pace of oil and gas development in Northwest Colorado will proceed at an unprecedented rate," the letter said. "The 1.9 million acres of BLM-managed land in the Little Snake area is scheduled to experience thousands of new wells over the next 15 to 20 years."
Those wells represent a dramatic infusion to Moffat County's economy, the governor said, but he takes exception to numbers quoted in the commissioner's letter.
"I disagree with your claim that the Vermillion Basin itself contains natural gas valued at $5.85 billion," he said in the letter. "The BLM estimates the Little Snake area including the Vermillion, could contain $5.85 billion in gas reserves."
The letter ends with Ritter expressing confidence that responsible development of the entire Little Snake area will bestow multiple benefits on Moffat County, including jobs, new businesses and an improved tax base along with opportunities for residents.
Ritter said he is weighing what is best for the entire state.
Dan Olsen can be reached at 824-7031, ext.207, or dolsen@craigdailypress.com