Local's nephew recognized with 'Sailor of the Year' award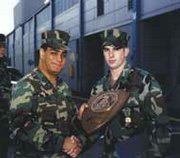 Pictured at left is SM2 Jed May of the United States Navy. May receiving his achievement award for "Sailor of the Year." May has been serving on the USS Squall for about 5 years and is also a rescue swimmer. According to the Coastal Pirate (USS Squall's family news letter), "May is a national treasure. He performs worlds more than just signalman duties. He has recently qualified as quartermaster of the watch, and will soon qualify as combat information center watch officer. As the radar plot and shipping control officer, he is one of the most important members of the bridge team as it transits through narrow waters. Few can match his professionalism or military bearing," says Lt. Hodge. Hodge also says in the letter "I want you to know that Squall's Pirate Crew, your sailors, are doing a great job and important work. Their efforts keep the nation prosperous and safe."
May is the son of former Steamboat resident Renae Mason (now a Glade Park resident) and is the nephew of DeAnn Gonzalez of Craig. Gonzalez said she is "very proud of May, his fellow 'pirates' and of the President of the United States. May can receive email at jedmoyusonovy@hotmail.com.