Over a meal of ribs and corn on the cob, residents and Colorado River Water Conservation District (CRWCD) directors and staff discussed the possibility of expanding Elkhead Reservoir and the pros and cons of such a project.
But anyone excited about zipping around a larger lake on a Ski-Doo is going to have to be very patient.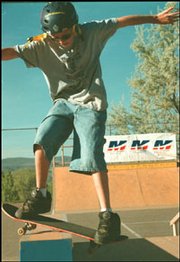 "This is a very long project, and from the numbers I've seen, it wouldn't be completed until 2007," said Jill McConaughy, associate council of the CRWCD.
The expansion is a major undertaking and would involve many entities. The funding for the project would come from several different avenues. Federal money would be involved since the one of benefits is the provision of water for endangered fish. State money from the Colorado Water Conservancy Board would also be available, and the city of Craig, along with surrounding areas could get involved.
"This evening is really for the neighbors and the landowners around the reservoir. It's an opportunity for us to hear their concerns and to make sure the ownership maps are correct," said Chris Treese, director of public affairs for CRWCD. "This is something less formal than the Federal National Environmental Policy Act process, more of a way to hear 'This is a good idea', or 'You guys are barking up the wrong tree', or 'I like this project except for this one thing', from the residents in a relaxed, comfortable environment."
Treese was pleased with the turnout, as well as the comments the CRWCD heard from attending residents.
"Everyone came here in the spirit of the evening to talk about what the project is, and what it's proposing to do for the area," Treese said. "There seems to be broad, local support for the expansion, for the water for people, and endangered fish.
"We think that we'll begin the official scoping for the expansion by this fall," Treese said.
Don Zulian, a landowner to the northwest of the reservoir, favors the project if, "it's done right."
"In my opinion, when I say 'done right', I favor the least amount of adverse impact on the affected landowners," Zulian said. "And, if people lose some land, they should be compensated."
Zulian also thinks the reservoir's siltation problem should be handled before any expansion takes place.
"Before we spend a lot of money on this idea, we should see to the silt problem and make so that we can handle it with annual maintenance. It would be a waste to build the reservoir bigger, but allow it to fill up with dirt," he said. "I'm all for holding water, as long as it's done right."
Moffat County Commissioner T. Wright Dickinson, CRWCD director for Moffat County, thinks the project is a worthwhile one and that it's being done correctly.
"It's always easier to expand an existing facility than build a new one. It's
both good business, and sound practice to expand Elkhead reservoir," he said. "We're going to make it a little deeper and a bit wider, and with minimal impact."
The plan also allows for the improvements agreed to in the purchase from the Division of Wildlife, and provides a vital resource for agricultural producer and new industry, providing for future growth and demand.
The expansion would provide 4,000 acre-feet for residents, and 3,700 acre-feet for endangered fish flows.
"I believe Moffat County lacks the storage levels that other valleys in
western Colorado have. This expansion is a piece of the puzzle, a good piece that everyone can support, to creating more water storage for our future needs and growth," Dickinson said. "Elkhead is a good project to do, and as we move through this process, we should also build other reservoirs for the area."