After all the sunshine, rides, shows, events and good times at Grand Olde West Days, organizers and participants are calling the four-day event a success.
"Overall, we were extremely pleased," GOWD committee member Les Hampton said. "Compared to last year, the concert attendance was down, but I think the first game of the Avalanche-Devils series had something to do with that. And the bull riding was off just a little bit.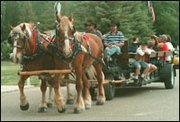 "Of course, we added additional seating, so the few empty seats could be from that, so we might have done even a little better. The helicopter rides and carnival appeared to be very big hits, the karaoke show was a fun, popular event and the Road Kill Cook-off was very well attended.
"We don't know exactly how it went yet. We'll start meeting in June and July to review and count receipts, see what we need to improve, and what was popular" Hampton said. "We already have a list of ideas for 2002."
The committee said GOWD is an ongoing process, and they intend to learn something every year to make it better.
"There are a few themes we want to keep, and we want to maintain the idea of country-style entertainment and activities. The western flavor is essential to the weekend," Hampton said.
One factor that might have affected attendance is the price of fuel, which could have made a long trip too expensive this year, Hampton said.
"We were very pleased with the weekend, and the committee will be getting together to do our reviews and begin working to make it a little better for next year," he said.
The carnival experienced a busy weekend. Chamber of Commerce Executive Director Cathy Vanatta was pleased with how the Wright Brothers Carnival worked out, for both families and the Chamber.
"The carnival went really well, and I heard a lot of good comments from people," Vanatta said. "They did a lot of business and the Chamber gets a part of those proceeds, so we also did very well."
Mike and Nancy, a CaCity couple who attended the event, were not disappointed with the sales at their craft stall. They manufacture and paint wood objects and decorative hangings.
"We had a fine fair. We travel to several fairs each year, and we've been to the Grand Olde West Days four or five years now."
The money the couple earns from their "hobby business" is used to pay for their daughter's gymnastic classes and equipment, Mike said. They said they will probably attend again next year.
A local business that set up a stall for the weekend also did well.
Bad to the Bone "did pretty good," said proprietor Josh Lawson. "We did better than last year, but not as well as some earlier years."
Lawson said the catering service experienced better business when the event was held downtown, but he was satisfied with how his business fared.
"There were fewer vendors this year, less competition in that aspect, so that probably was part of the improvement," he said. "And, the weather was great, which definitely helped. The whole weekend was marketed well, drawing people in. Overall, there was a good crowd that turned out."