Former Moffat County High School Bulldog Clint Wells was the top-American finisher at Monday's Bolder Boulder, running the 10K, a 6.2-mile race, in 29.51 good enough for a seventh-place finish.
Though he was a 51-seconds behind Kenya's James Koskei, Wells was pleased his Memorial Day performance.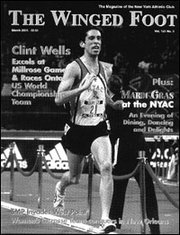 "It was encouraging," he said. "A few years ago, I would have been two or three minutes behind these guys, but I can see I'm getting closer and closer."
The next closest American finisher was Peter De La Cerda, who finished 33 seconds behind Wells.
Wells was one of three runners chosen to represent the U.S. in the elite division at the Bolder Boulder, and he looks to be an emerging threat for the U.S. in distance events.
Wells began his running career as a Moffat County Bulldog, running under the tutelage of Coach Gary Tague. He was a five-time, state qualifier in cross country and track, and a state champion in both his junior and senior years in the 1,600-meter and 3,200 run. He also won the state cross country championship his senior year.
He also set school records in both events, with the record for the 3,200 still standing today.
After graduating in 1993, Wells attended the University of Colorado, where he continued to compete in both track and cross country. However, Wells found a new event in which he excelled at, the 3,000 steeplechase, a brutal distance event that incorporates a variety of obstacles along the way.
While at CU, Wells was voted a four-time All-American.
Since graduating, Wells has competed in the World Championships twice. He placed 41st at a meet in the Netherlands, and was one of six American runners to qualify for the 1999 World Championships in Ireland.
He has also been flirting with Olympic qualification, being edged out by a half-second in the steeplechase, and continues to be among the top-finishers in road races across the country.
His success as a runner on the track and in cross country has earned the Moffat County-native a number of honors that few distance runners achieve.
He is sponsored by the New York Athletic Club, and appeared on the magazine's cover in March. He is now under the guidance of former world-class distance runner, Arturo Barrios.
Wells' success in distance running has had a ripple effect, which has traveled all the way back to the Yampa Valley. Many of those who were associated with him during his high school days still keep up with his career.
"I was going crazy when the race [Bolder Boulder] was coming to end," Tague said. "Clint is tall, so I could see him over the heads of the other runners coming into the finish.
"More than just in athletics, Clint is a fantastic young man. He's the kind of kid you want to cheer for."