"Nitro" broke out of the chute, putting himself and Cody Mahar into a flat spin, but Mahar was able to hold tight and endure eight seconds, earning a score of 80 points.
Mahar's 80-point ride was the only eight-second ride the crowd was treated to in the second round, as the Burns Rodeo Company bull's lived up to their pre-ride hype as the nastiest around.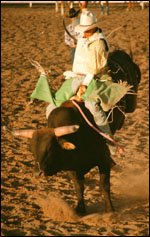 "Burns' bulls are the best in the world, and tonight they dang-sure bucked," said Justin Bond, coordinator and bull ride participant. "This year's bulls were as good as they ever were."
Bond and 29 other daredevils competed at the third-annual bull riding event held Sunday during Grand Olde West Days.
Mahar, a South Dakota native, was the sole rider to survive the second round, and that was enough to win the event.
Earning an average score of 157 on his rides also won Mahar a total of $1,900 in prize money.
Clint Walker of Hudson, Colo., scored a 78 in the short round, edging out Mahar by one-point, and walking away with $800 in prize money. He also took home another $1,000 for placing second in the average.
A nasty bull by the name of "Skoal Slammer" was the second-round menace that kept Walker from placing higher in the average.
Walker did find positives in just winning the short round because of some spectators in the crowd.
"I finally got my parents to come and visit and watch me," said the rough stock rider from Hudson, who now trains in Hayden. "It was good to have a cheering section."
John Pinnt of Hayden was the only other local to finish in a money-winning position. He finished sixth in the average, and took home $200.
The bulls may have been the nastiest ever, but the crowd who gathered to watch was smaller than the standing-room-only crowds of the past two years. The Moffat County Fairgrounds' grandstands were full, but not to the point of spectators having to stand.
The evening of bruising, bull riding was complemented by some levity on the part of Scott "Funky Kol" Massina of Huntsville, Texas. Massina was the microphone-outfitted barrelman who joked throughout the evening with his straight man in the booth, event announcer Les F. Ohlhauser.
Though Massina dished out plenty of verbal and physical taunting to the bulls, his wise-cracks only got his barrel knocked once by an angry bovine.
This year's event attracted as many nationally-qualified rodeo riders as ever, most of whom were personally invited by event coordinators, Bond and Shirley Fuller.
This 30-ride event has become a tough stop for those who dare to make the trip, with Bond's old bull rider's adage being painfully proven.
"There's not a bull that can't be rode, but there's not a cowboy who can't be bucked."