Making sandwiches, feeding a chickens, and milking goats.
Though those activities all sound like chores that would be done on a ranch, they also are what make up the competitions at the Grand Olde West Days' Ranch Rodeo.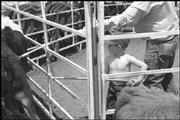 The Ranch Rodeo, sponsored by Elkhead Ranglers 4-H Club, incorporates some of the regular ranch duties into a fun-filled competition.
"This is a great way for teams to come together and really have a good time doing some things that are normally taken for granted," volunteer Lorrae Moon said. "Not only can they have a good time participating, if they are good they can make a little money as well."
Teams must pay a $100 fee to enter the Ranch Rodeo, but Moon says that is a small price to pay for an evening of fun.
"There isn't too much that a group of people can do for $100," Moon said. "Considering that you can make money as well, it is really a pretty, good bargain."
Teams consist of five individuals. One must be a female and another must be under the age of 14. This year's winner was the Mack Team made up of Billy Mack, Missy Showalter, Mindy Green, Gina Mack and Sabrina Showalter.
The Mack Team is comprised of family members, with father Billy Mack and four of his daughters making up the squad.
"That is a perfect example of how this is a good way to get families together to participate in an event like this," Moon said. "All of the teams cooperation also helps to make this event a great one."
Aside from the competition aspect, the profits go to a good cause. The event usually raises between $700 and $1,200 every year, which benefits the Elkhead Ranglers Club.
"This is also a good way to show the kids that they can be self-sufficient," Moon said. "They receive all of the entry fees and then are responsible for going out and buying the prizes. It helps them learn a little bit on managing money as well."
The most common of the team events consisted of goat milking, trailer loading, and team branding. However, a few events are part of the competition that aren't as normal.
The cowboy luge is an event where participants ride around on a trash can lid that is being pulled by a horse. Though the luge is popular among spectators and participants, the grandaddy of the Ranch Rodeo events would be the Home on the Range.
In Home on the Range, different ranch chores are completed, all in a team situation. Team members must stack hay, put on a pair of irrigation boots, make a sandwich, feed a chicken, and race to find envelopes that contain money.
"It's a riot," Moon said. "Combining all of these everyday chores into one event is certainly entertaining to watch, and the people involved have a lot of fun as well."
One thing that Moon said helped this year's event was a little cooperation from Mother Nature.
"The weather was fantastic, that was one great thing," she said. "Everyone had a good time, the weather was good, so overall I would have to say it was a pretty, good success."