I entered the community of Craig a little more than four months ago, embarking in a career I never saw myself pursuing journalism.
In truth, I've never cared for journalism, finding those who enter the field egotistic and their writing trite.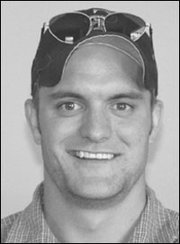 Fresh from the study of English, falling into a career of trite writing was my greatest fear.
Craig luckily offered a chance for journalism to redeem itself in my eyes, but it was not because of the newspaper or a new-found love of professional writing. It was because it allowed me a chance to experience, at least in a distant way, what it's like to belong to a high school which dominates in athletics dominates, and at the same time, is classy.
I grew up in Boulder and attended Fairview, which, at that time, didn't really have any dominate sports, except maybe our baseball team.
Our football team, the only sport I participated in throughout my high school career, was only able to win eight games in the three years I played. As for the other sports, there may have been an athlete here and there qualifying for state, but nothing on the scale of what Moffat County High School has done in the past year.
It may be that I ventured into the Yampa Valley at the right time, and in the right career, to play witness to the stellar season its athletic squads have had, but I also know that putting good seasons in Colorado athletics is no fluke.
The cross county and wrestling teams both walked away state championships, girls track earned a respectable third place at state. The baseball team took what looked to be a losing season and made it as far as the first round of the state playoffs, giving the No. 2 team in Class 4A a run for its money.
The basketball teams fought through the season, and if it weren't for a miracle 30-foot, 3-point shot in the regional tournament, both would have made state playoffs.
Individual competition has yielded many athletes from Moffat County. Each sport has sent a represenative to state. The boys and girls swim teams, boys track, and boys and girls golf all placed an athlete in state competition. And, the rodeo team is fixing to place at least three cowgirls at state.
This may be old hat for Moffat County, but for an old member of the Front Range's Centennial League, only one school I know puts seasons up like that Cherry Creek, and they have a student body of 4,000 to draw from.
The community should be proud of what its young sportsmen and women have accomplished. It is a tribute to not only to the athletes themselves, but the community as a whole.
The athletes of Craig are students of the highest caliber. There is little worry about how the young athletes will represent the community they hail from, and there are many tell-tale signs to show this.
It is nice to attend a game on a Friday night or a Saturday afternoon without having the crowd half composed of police. I came from an area where, in many cases, fans would be searched before entering a stadium.
The faculty in attendance can actually tell you what's happenning on the field, because they can actually take the time to watch the game instead of worrying about what's happing in the bleachers.
Most of the faculty at Fairview games were there to add an extra measure of security.
The last significant sign of the high caliber of Moffat County students is how many attend away games, including the state championship.
The only good team to grace the fields of Fairview when I was there, was our state championship baseball team of 1993, which had little student support during the state playoff finals. There were students who showed up, but it paled in comparison to the amount attended the Bulldogs' wrestling state competition this year.
So, Craig, be proud of what you have produce in the way of athletes. It may not be the end all in how a community is judged, but in many respects it is the most high profiled.
The athletes of Craig, and those who have supported them, have given those from outside the community one conclusion in judgement you're top notch.