Throngs of proud parents crowd the baselines, clapping for good plays made by both teams
The children who play are either deadly serious about the sport, or use it as another chance to enjoy the warm summer weather and their youth.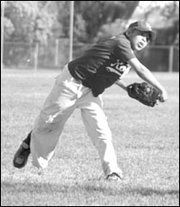 Summer was ushered in May 14 in classic, All-American fashion with the start of yet another year of Little League baseball, a chance for the children of Craig to live their major league dreams.
For first-year coach Doug Rogers, Little League isn't just a learning experience for the young sluggers.
"I'm out here for the experience as well," Rogers said. "Coaching Little League you learn quickly what you need to work on, for us it is our batting."
Little League is split into two, age groups, one for 9-and 10-year-olds, and another for 11-and 12-year olds. The younger group has 10 teams, while the older group has seven.
Craig is not the only city to groom a crop of future major leaguers. Hayden and Meeker also field teams.
The teams play a nine-game season from May 14 to June 20, taking the field every Monday and Wednesday.
The Craig teams play all games at either Woodbury Park, North Park or the fields near Craig Middle School. Hayden and Meeker play at their own fields, but if they are matched up against a Craig team, they will always travel here to play.
The game is played like any other baseball game, except that leadoffs and steals are prohibited, and the game only goes five innings. The only other difference from regular baseball is that the outfielders play noticeably closer
Being young, the players have their attention split between the game and what their friends are doing, having fun the whole time.
The ability to keep the children motivated to play leads most coaches to forgo a majority of the in-season practices. Instead, most rely on the three or four preseason practices to work out the kinks. They will then hold one or two practices during the season to tweak any problems in the system.
"We're planning on holding a practice before our next game, since, like I said, we've had problems with our batting," Rogers said. "My assistant, who coached last year, said that after the preseason practices they never held another one all season."
Homeruns and strikeouts are far from the rule in Little League, but that's not the point of the program.
"I just hope that I can prepare the kids to move to the next level, to teach them enough skills to be successful at baseball," Rogers said. "Along with the skills, I try to install good sportsmanship, since that's the main reason we're out here."