Girls with uniforms consisting of blue jeans or shorts and Tee-shirts with insignias such as Cook's Backhoe or Craig Steel can mean only one thing softball.
For 11 teams from Craig, Hayden and Oak Creek, summer officially began Monday, with the first pitch cascading over home plate.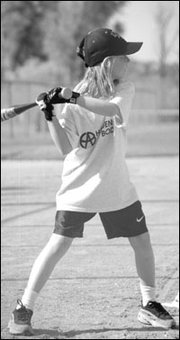 For the girls who play, it's not about winning and losing, but how much fun they have.
"The best part of coaching the girls is how excited they get when they do something good," Cook's Backhoe team coach Sue Bengston said. "But there's the other extreme, when they're sad because they lost. That's the hardest thing to deal with."
The emotional roller coaster that is softball spans two months through the summer.
The season began last Monday and the girls will play until June 25.
The teams play two games a week, on Mondays and Wednesdays, with a two-day, end-of-the-year tournament to finish the season.
Regardless of the team's home city, all the tournament games are played at Loudy-Simpson Park.
The girls' league is split into two age groups; 9 through 11 and 12 through 16.
The younger girls take the field at 4:45 p.m. and 6 p.m., with the older girls playing at 4:45 p.m.
The game, though, is much different than the average softball game.
There are 12 girls playing defense, enough to field a Canadian football team. Along with the difference of how many girls field, there is also a difference in how long the game is played.
The game either goes five innings or one hour, whichever comes first.
The teams hold three to four preseason practices, but when the season is in full-swing the practices are discontinued.
"We just want the girls to develop good sportsmanship, that's the most important thing," Bengston said. "Really, we couldn't even develop the sportsmanship if it weren't for the parents. They are what drives softball, and they're great.
"The parents in the stands cheer for everyone, regardless of what team they're on, and get even more excited when it's their own kid doing well. They really show how much fun softball should be."
While sportsmanship is the most important thing in City League softball, that doesn't mean the girls do not improve their physical skills.
"The girls have a hard time backing up bases and connecting with relays when they start out, but by the end of the season, this starts to become second nature," Bengston said. "So the skills the girls gain over the season are definitely noticeable."