Like a page out of a Judy Blume book, Ridgeview Elem-entary School students were able to act out, have fun, yell and play Tuesday at Loudy-Simpson Park all without getting into trouble. They were encouraged to stand in line, participate, and of course, not eat any of the worms that they found.
Though students may have been having a good time, they were also acquiring new social skills in the process.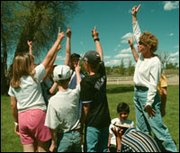 The school held its annual Challenge Day, a fun-filled and educational day of challenges, teamwork and sharing. Ridgeview started Challenge Day as a way to teach children better ways of communicating, while helping the students to get to know one another.
"We like to get the kids ready to move on to the fifth grade," Ridgeview counselor Susie Clark said. "Sometimes it's difficult for them to make the adjustment, so we like to give them a day to approach different types of challenges."
Students in Craig attend one of three different elementary schools before moving onto the fifth grade, which is a whole new body of students and a new school as well. Challenge Day helps to ease the difficulty associated with the new school and new faces.
"There have been studies done that indicate that going from elementary to an intermediate school is a big step for these students," Clark said. "By giving them the different challenges throughout the day, it helps to build their learning skills by having to work together and teach each other."
The challenges began with the children having to solve small-scale problems. Easier tasks were performed in the morning and progressed to more difficult ones throughout the day.
"We start them out with easier things in the morning, and work our way up," Clark said. "By later in the afternoon, we move onto some challenges that can take the kids quite some time and be extremely frustrating to them."
Fourth graders described the challenges as difficult, time consuming, frustrating and hard. However, they were all proud of their accomplishments once they completed them.
"This is a great way for the kids to do some critical, technical learning," Ridgeview fourth-grade teacher Jill Hafey said. "Next year, they will have a new set of friends, a new setting and new teachers, so it is important that we help to steer them in the right direction.
"As they continue to grow older, they are going to be faced with a lot of difficult decisions as to how they are going to live their lives," she said. "We want them to know that they have choices, and that they should be strong enough to make the right ones. If they have a friend that is using drugs, we want them to be able to stand up and say that they are not interested in using them."
The day was concluded with a picnic for the students, to which the parents were invited to meet teachers and discuss what the children had learned.
"This is just a great way for kids to get out and experience a new learning environment," Clark said. "They are building skills today that they will be able to use for the rest of their lives."