A top-three showing in Regionals and a top-ten showing at state were the goals junior Lindsey Scott set for herself this season.
Mission accomplished.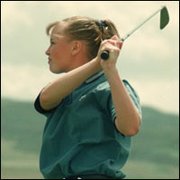 With a two-day combined score of 175, Scott walked away with eighth place in the state, the second-best showing by a Western Slope linkster. The only other girl on this side of the Continental Divide to shoot better was Eagle Valley's Joanie Ewing, who shot a two-day total of 166.
"Though Lindsey will tell you that she wished she played better, she played two solid rounds of golf," Coach Chuck Cobb said. "She just got into trouble on a few shots, which added up, but she did find out that she can play with the girls at state."
The two-day state golf tournament, which started Monday, was held at Colorado City's Hollydot Golf Course.
Mullen took both the team and individual titles, brandishing top-swinger sophomore Kelly Burke, who shot a two-day total of 160.
This was the first year an exclusively Class 4A tournament was held. Before, both Class 4A and 5A competed together.
Scott's top-ten showing at state is the best Moffat County has done in recent history, and is the first top-ten showing at state for Scott.
She was not the only Lady Bulldog whose presence graced the southern Colorado links. Senior Kristen Reid made her first state appearance. She ended up with a combined score of 247.
"Reid got the shanks the first day of the tournament and just couldn't get out of it. It ended up killing her game" Cobb said. "She came back the second day, and shot around were she usual does the low 100s."
Reid's shanks were accentuated by a long course, which was made even longer by the snow that was still melting on the first day of the tournament.
By the second day the snow was gone, but the moisture gave the greens a deadly bite. Along with a wet fairway, the roughs were over two inches high, which meant that making straight shots was imperative.
The state meet marks the end of most of Moffat County's varsity golfers' careers, along with most of the tough competition on the Western Slope.
Five of the top-ten shooters at state were from the Western Slope, and almost all of those were seniors.
The only one returning next year will be Scott, who has changed her focus on who she will have to beat.
"Lindsey knows her competition will be coming from Burke next year, she knows that's the girl to beat," Cobb said. "She put in hard work this year to make top 10 in state, and I don't see her work ethic sagging for next season."