A measure that voters passed last fall is soon to become a reality, which is good news for school district coffers. House Bill 1272 has been passed in the legislative session, and is now awaiting the Governor's signature.
HB 1272 increases state funding by $41 to Colorado public schools for textbooks. It will be phased in over the next two school years.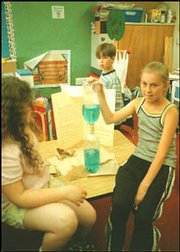 "This will probably help us to adopt new textbooks for the schools," said Janet Bohart, Moffat County School District director of curriculum and staff development. "Every year we adopt a new textbook for the schools, so with this money we will be able to put the money that we had been using back into the general fund, so that we can free it up for other projects."
Moffat County Schools rotate textbooks every seven years, however, in that span of time, the prices for books have increased dramatically.
The average price of a high school textbook is now between $30 and $50, with the resale value of these books is next to nothing.
"The higher the grade level, the more expensive the books," Bohart said. "Paper costs have skyrocketed recently, which has driven the price up. If you go and look at what you paid for a hardcover book ten years ago, and look at what you will have to pay for a book now, it is evident that this is something that everyone is dealing with."
The legislature also passed Senate Bill 129, which amends the Public School Finance Act of 1994, establishing a 5 percent funding increase for public schools in the next school year.
"The voters of Colorado passed this measure last fall, so it is not a real surprise that it has made it through," said Mike Brinks, Moffat County Schools finance director. "Most of it is going to cover the regular expenses associated with running schools: Paying teachers, maintaining the buildings, supplies and upkeep. It is coming from state-appropriated funds, so it is not as though taxpayers are going to be seeing an increase in what they pay."
The Moffat County School District receives $4,854 per pupil from the state. SB 129 bill brings the district's allocation to $5,100, which is minimum that any district in state gets. According to Brinks, the formula the state uses to calculate per-pupil funding puts the Moffat County School District just short of the $5,100 minimum, so it automatically gets the lowest amount. Based on need and revenue generated from other sources, some Colorado school districts may receive a higher per-pupil allocation.
This bill also includes other finance amendments, with some already being signed into law, while others were amended.
"Both of these measures are going to help the students in Moffat County schools," Brinks said. "With the way the curriculum is set up now, they have their scheduled rotation of books, so this is going to help a little bit in the cost that we have to incur."