The Moffat County track coaches have it all worked out.
Mike Gleason takes care of the distance runners and Gary Tague takes care of the sprinters.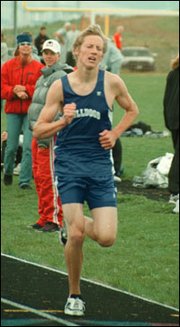 This division of labor will not lessen their load today and Saturday at the boys and girls State track meets at Arvada's Jefferson County Stadium. The coaching duo has 18 tracksters to contend with, because the girls team placed an athlete in every event, except for the shot put and the long jump.
The boys state hopes, though, rest on only two events.
"We split up the coaching duties like this in practice as well," Coach Tague said. "It allows us to maximize our areas of expertise."
Tague won't see any of his boys in sprint events this year, but will try to help senior Jill Adamek to a state title in her final year.
Adamek is only .10 away from the Class 4A leader in the 100-meter sprint, and is the anchor of the 4x200 relay, which is also in the top-five.
The one thing Adamek will be missing at her final state competition is teammate Heater Urbanoski, who failed to qualify in 100 and 200.
Adamek and Urbanoski have been a staple for the girls sprinters the past four years, and Gleason said that they have almost guaranteed 1-2 finishes in their events.
Urbanoski will still compete at state in the 4x100, 4x200, and 800 medley relay teams.
"That's why I've said all year that staying healthy is our biggest key to doing well at state," Gleason said. "Losing Heather in the sprints is a big blow for us, and not having her in those races means less points for the team."
Gleason will have the job of guarding the boys' state dreams, since all the boys who qualified were distance runners.
The boys will compete in the 4x800 relay, and 3,200 run.
The 4x800 team is made up of Tim Baily, Jarrod Burns, Colton Grinolds and Drew Morris. Burns will also be running the 3,200.
According to Tague, the boys should make Gleason's job easy.
"The boys are really looking to place, and they've got a shot at it," Tague said. "They're excited and ready to compete, I just hope their peak works."
Aside from the last races of the senior sprinters, the Bulldogs' state dreams rest on the shoulders of four distance runners.
Senior Emily Mortensen looks to accomplish a long-time goal of beating Palisade's Natalie Hughes in the 800-meter run.
Mortensen sits one second behind Hughes, who is looking to capture her third state title in the 800, 400, and 1,600 meter runs.
The 4x800 run, which Mortensen is anchoring, may turn out to be the premier event at this year's state meet.
In addition to Mortensen, the relay team includes Stephanie Hurd, Charlotte Steele, and Laurel Mortensen. The four have led the state in their event all year.
They are leading not only Class 4A teams, but have the best time in all of the classes at 9:35.16.
Mullen has been steadily creeping up on the Lady 'Dogs' relay team, and is only three second behind, so it should provide for a good race.
"I see us finishing third or fourth as a team," Gleason said. "We'll do well in all of our events, but we've just had too many injuries to get all the points that we need."
State track team qualifiers
Boys
Name Class Events
Jarrod Burns Sr. 4x800-meter relay, 3,200
Drew Morris Jr. 4x800 relay
Colton Grinolds Jr. 4x800 relay
Tim Bailey Soph. 4x800 relay
Girls
Name Class Events
Jill Adamek Sr. 100, 200, 4x100 relay, 4x200 relay
Laurel Mortensen Soph. 400, 4x200 relay, 4x400 r., 4x800 relay
Emily Mortensen Sr. 800, 4x400 relay, 4x800 relay,
800 medley relay
Charlotte Steele Jr. 800, 4x400 relay, 4x800 relay
Stephanie Hurd Sr. 1,600, 4x400 relay, 4x800 relay
Danielle Brown Soph 1,600, 3,200, 4x800 relay alternate
Beth White Jr. 3,200, 4x800 relay alternate
Sheila McNicol Soph. 3,200
Jeni Jones Soph. Triple jump, high jump,
4x400 relay alt., 800 medley relay alt.
Ashlee Hafey Fr. 4x100 relay, 4x200 relay alternate,
800 medley relay alternate
Brandi Babin Fr. 4x100 relay, 4x200 relay,
800 medley relay
Heather Urbanoki Sr. 4x100 relay, 4x200 relay,
800 medley relay, 4x400 relay alt.
Ashley Bishop Soph. 800 medley relay, 4x100 relay alt.,
4x200 relay alternate
April Tague Jr. 4x100 relay alternate