Despite speculation that it may be closed forever, local travelers can rest easy because an old, familiar landmark will be opening back up for another year of service.
The rest area between Craig and Hayden, across from the state wildlife ponds, may give the initial appearance that it is closed for the majority of the year, however, according to state transportation officials, it will be opening back up soon.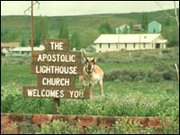 "We will open it again at the end of May," said Bernie Lay, Highway Maintenance supervisor for Northwest Colorado. "It will then stay open until November, when we close it back up for the winter season. There is just too much trouble associated with keeping it open in the winter for us to maintain it year-round."
Though the rest area will once again open for the summer and fall, that doesn't mean it will continue to remain open in the future. Colorado State Parks has constructed a new rest area less than five miles from the seasonal one, and Lay believes that may dictate the future of travel stops for Colorado drivers.
"With that older one, it is going to be difficult justifying that it remain open," he said. "The one closer to Hayden is newer, cleaner and easier to get in and out of. If I were someone traveling through the area, I would much rather stop at the newer one."
Lay also envisions a problem with operating both rest areas in close proximity to each other. In Colorado, it is not uncommon to travel more than 80 miles between rest areas, while in the 17 miles between Craig and Hayden, there are two.
"When we have two areas that travelers can stop within five miles of each other, one of them is not going to get as much use as the other," he said. "It takes time, money and a fair amount of effort to keep both of these open, so I think that is something that we may want to take a look at in the future."
The impact of being open only seasonally may also affect the Colorado Highway Department's decision to close the older area. With the large amount of snowfall that plagues Northwest Colorado on an annual basis, Lay feels the effort put forth to keep the area open may be overkill.
"We already close it for the winter due to the difficulty that we face removing snow from there," he said. "We are going to have to wait and see how much use it is getting from travelers this summer before we go ahead and make any recommendations to the state.
"It is going to be a long way off before we make any concrete decisions, though."