The nice thing about rodeo is you usually don't have to listen to your partner complain.
Perhaps buck you off, and crush you but never complain.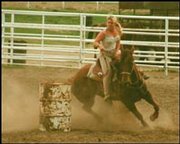 For freshmen Kelly White and her partner, a 15-year-old gelding named Webster, this season has given the two little to complain about.
The duo have raced their way through barrels and poles, to top-ranked finishes in nearly every rodeo. The two are currently ranked second in the state for barrel racing and third for poles.
"It's about half-rider, half-horse," White said, breaking down this season's success. "You have to click with your horse, otherwise it won't trust your decisions when you're mounted."
At the Henderson Rodeo on May 5, Webster trusted White.
Horse and rider placed first in every race, except for barrels on Sunday.
White was not the only one on the same page as her horse.
Shalea Pinnt and her mount, Moon Runner, rode their way to a sixth-place finish in the poles.
Chelsey Schnackenberg rounded out the Moffat County field for top-10 finishes at Henderson, with an eighth-place ride in the poles.
"Our racers have been doing well this year, but most of the girls put a lot of time into getting better," said Robin White, Kelly's mother.
Robin White has made it to every rodeo this year, following her daughter's progress.
While the girls have done well this season in finding adequate time for practice, the boys have been stifled by a lack of practice time.
White said the lack of practice for the boys is due to the lack of stock available to them. Most of the time, there are no calves to be roped or broncs to be bucked during a week of practice.
"A lot of our rough stock riders don't get any practice during the week," White said. "For the most part, that is one of the reasons that no one has gone eight seconds, but the heart the rough stock riders have show this year is incredible."
Sophomore Austin Schell and senior Sam Vasquez are still fighting for eight seconds on the backs of the bulls, while freshmen Tyler Pinnt and Cody Rhyne are still trying to tame bareback riding.
The team lost what little experience it had in rough stock when it lost sophomore Emmett Nottingham, to a broken wrist earlier this season.
Although the rough stock riders have had a lackluster season due to the lack of experience, the ropers have shown moments of glory.
Freshmen Luke Wilson and George Raftopoulos pulled in a 10th-place finish at Henderson in team roping.
Along with the team ropers, freshmen Doyle Moon has started to come into his own as a calf roper. Though he has not placed this year, he is on the steady road to improvement.
"Moon is great, he's just a little guy out there throwing calves that are bigger then him," White said. "The kid has a big heart."
On Saturday and Sunday, the Moffat County rodeo team will travel to Westcliffe, just outside of Salida. This rodeo marks the beginning of the end of the season. After this week, the team has on two competitions left before the June 13-16 State Finals in Greeley.
For most, this part of the season has become more of a mental, rather than physical, struggle.
"Being gone every weekend really starts to wear you down, especially this late in the season," Kelly White said. "That, combined with worrying about your competition, can really build stress."