Heated exchanges and wild accusations were flying at City Hall Tuesday night, as the City Council voted unanimously to close down the Ironclad Trailer Park at 1664 Yampa Ave.
George May, owner of the trailer park, accused the Council of a variety of improprieties, from surprising him with the action to close his park, to being responsible for his son's health problems.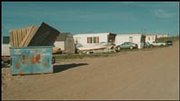 Despite his plea, the Council voted unanimously to close the park, which has not complied with an agreement made in August 1999. The agreement required the owners of Ironclad to build a fence around the park's exterior, install adequate street lighting, develop landscaping and pave the roads.
"It's not easy to do when you can't get the financing to get these things done," May told the Council. "I've been hearing rumors all over town that you guys are trying to shut me down, so who's going to want to give me a loan with rumors like that going around?"
The city sent its first letter concerning the Ironclad's non-compliance in August of 1998, with the initial agreement for the repairs to begin in October 1999.
May did not feel as though the city has given him adequate time to make the repairs, and repeatedly blamed the weather for not being able to complete the upgrades necessary to bring the park up to code.
"That whole area where I am supposed to blacktop is nothing but mud," he said. "I can't get the cement to dry in an area that is always wet."
Councilor Bill Johnston could not accept May's theory as a valid excuse.
"Mr. May, I am not going to believe that area has been mud for the last three years," he said. "During that time, you have been telling us that you were going to do all of these things, and they have not been done."
Councilor Tom Gilchrist echoed Johnston's comments, "What we are seeing from you, Mr. May, is a history of not meeting deadlines. You keep telling us that you are going to do this and you are going to do that, but we continue to see little or no progress from you."
May claimed that if the city closed the park, some tenants might have an especially difficult time dealing with the consequences. Some residents, he said, would even consider suicide rather than having to face the financial difficulties that would be incurred.
"And, you know whose fault that would be, don't you?" He asked the Council.
"Their own?" Mayor Dave DeRose replied.
"No, it wouldn't," May said. "It would be yours, because you're forcing them to move."
In a workshop held before Tuesday's meeting, Council members looked at various options for Ironclad residents who would be forced to move with the closure.
"We figured that the cost to move the five trailers that are currently there, would be about $7,500," Building Inspector Dave Costa said. "That doesn't include the re-skirting that would have to be done, but that is a fairly accurate figure."
The Council is looking at using they city's dilapidated property funds to move the tenants to another trailer park. It is not the city's responsibility to do this, it would be doing so as a community service, and to help the current residents of the Ironclad, said City Manager Jim Ferree.
"What concerns me is that I drove through there today, and it appears as though a lot of these homes probably wouldn't be able to withstand a move," Johnston said. "A few of them are not in too good of shape, and that would be an additional cost that we would have consider."
Ferree is going to look at the possibility of relocating the residents, while City Attorney Sherman Romney is going to inquire as to whether May is responsible for moving the residents.
In other Council news:
The Council approved a conditional use permit for a fire training facility to be built on Lot 4, in the Beyer Minor subdivision. The facility will provide Craig firefighters the opportunity to train without having to travel to other parts of the state to learn new skills.
The facility will be a four-story structure, and according to firefighter Doug Slaight, little smoke will be emitted.
"The training that we will do is all going to be inside, probably using hay to create the smoke," he said. "Usually, for a whole training session, we will only burn about half a bale of hay to get the smoke necessary."
The Council approved liquor licenses for both Carelli's Restaurant at 465 Yampa Ave., and Casa Loya Mexican Restaurant at 351 Ranney St..
Ordinance 900 was passed in its second reading. The ordinance establishes a minimum elevation of new water taps below a water tank and establishes a maximum length of service lines from a water main.