Cassandra Hunt
Embry-Riddle Aeronautical University in Prescott, Ariz., is pleased to announce that Cassandra Hunt has received the university's John G. and Isabel S. McKay Memorial Scholarship. This award is presented to students based on their scholastic achievements. She has also been named to the Honor Roll for the 2000 fall semester. Hunt is the daughter of Phylis Hunt of Craig. She is a 1997 graduate of Moffat County High School.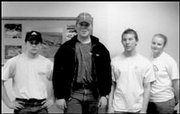 Jacob R. Arguello
Oregon State University is pleased to announce that Jacob R. Arguello, of Craig, has been named to the Scholastic Honor Roll Winter term with a Grade Point Average of 3.5.
Carl Rugh
Carl Rugh of Moffat County High School has been awarded the Academic and Community Enrichment Scholarship in the amount of $15,000 from Cornell College in Mount Vernon, Iowa. Cornell College is a four-year liberal arts college. The college offers liberal arts study on the One-Course-At-A-Time calendar, an active residential campus community and an emphasis on leadership and service.
Christina Louthan
Christina Louthan of Craig was among 24 University of Wyoming students from Colorado who received a scholarship as a top student for the 2001-2002 academic year at the University of Wyoming College of Agriculture.
Students received 163 scholarships totaling nearly $240,000 during the recent Brand of Excellence Scholarship banquet sponsored by the UW College of Agriculture.
Louthan's area of study and scholarship is rangeland ecology and watershed management/animal sciences junior, and a National Western Stock Show Scholarship.