While most of the focus of growth problems and legislation has been on the Front Range, problems of how deal with growth and plan for the future have cropped up in Moffat County.
At Friday's Moffat County Board of County Commissioners meeting, two issues highlighted the fact that when, how, and in what manner the communities of Moffat County grow is a point of between residents and policy makers.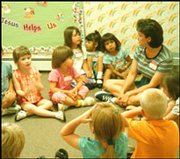 One example of growth pressures involves the proposed Schukar Minor Subdivision, northwest of Craig off County Road 7. The proposed development, which divides the Schukar land into four lots one for the Schukars themselves, one for their son, and two for future households. The lots are in an area zoned for development, which allows the land to be parceled into one- to five-acre lots.
But, the surrounding neighbors don't want the area developed. At a Moffat County Planning Department meeting May 15 and the Board of County Commissioners meeting on Friday, most neighbors voiced their displeasure with the proposal, but the preliminary plat was approved at both meetings.
Both Rod and Joanne Lighthizer, neighbors to the Schukars, said they bought their land in 1993 with the understanding that the land would not be subdivided into lots smaller than 35 acres, in accordance with the original landowner's, intentions. Otis Lyons was the original landowner.
Moffat County Planning Director Sue Graler said that Lyons' intention was that the land not be parceled up smaller than 35 acres, but had put nothing in writing in the deeds or anywhere that would enforce that proposal.
"This area is designated in the county's Master Plan as one that would be developed," Moffat County Commissioner T. Wright Dickinson said. "That label has been there since 1980, when the plan was created. And I strongly support a property owner's right to use his land as he sees fit.
"But, I am disturbed that a realtor told the Lighthizers that the land was not going to be developed when he had to know that the area was one that was to be built up."
The Commissioners approved the preliminary plat with stipulations concerning junk items, a road maintenance agreement for future residents and added contours to the next plat.
"Without a written record that would allow us to act, there are no legal grounds for us not to approve this development," Moffat County Commissioner Marianna Raftopoulos said.
But that reasoning brought no satisfaction to Joanne Lighthizer.
"Does it not matter that all the neighbors are against this? The Schukars just bury their garbage in an open landfill. Is that the way the new households will handle it also? I feel we were just there as a novelty item," Lighthizer said. "It seems nothing we say is going to matter, and that isn't right. It's just not right."
The Commissioners realize decisions on development are not simple ones to make.
"We understand their concerns, and we've grappled with these issues with other minor subdivisions, but without something to stand on, how can we deny this request?" Raftopoulos said. "We take every development proposed case by case, and if there are concerns that the neighbors want addressed and their points are valid, we can put them in the plat as stipulations. We're more than willing to listen to those concerns and work on them."
Another situation dealing with growth is a road off Moffat County Road 60, which gives access to the Bowers Ranch, located east of Dinosaur National Monument. The road comes dead-ends at the gate into the ranch and is labeled County Road 60A.
The issue is whether County Road 60A is a county road at all, or a private road that has been mislabeled.
The road crosses the property of Jim Basset, who placed a fence across the road. Basset claims the road is a private one, and that the county has no jurisdiction over the dispute. The owner of the Bowers Ranch, Dr. James Tempesta, claims the road belongs to the county, and that Basset cannot block access to the property.
"From the title insurance search, there were no encumbrances, easements or county roads on the land," Basset said. "The attorney who handled the search researched public records, and no record of a county road was found."
Dennis Jones, Moffat County Road and Bridge department director, disagreed.
"We clearly show on all our records that this is County Road 60A. As far as Road and Bridge is concerned, this is a county road," Jones said.
The fact that the road is on the map doesn't make it a legal county road, said John Watt, chairman of the Browns Park Land Use Board.
"In 1976, there existed a subsidy for county roads, and the Commissioners of that time mapped a lot of county roads across private property," Watt said. "There were many unlawful roads done during this effort in a arbitrary and capricious manner.
"All 41 members of the Browns Park board don't want the County Commissioners to get involved. We believe this should be handled as a matter between two private landowners."
The Commissioners were unanimous in their opinion that, if they did not have to become involved, they wouldn't. But, since the road is shown as a county road, some research into the situation by the County is required.
Basset said he would allow the road to be used by fellow ranchers, but if the land were developed, he would not allow access across his land. Tempesta said he had not decided what his plans for the land were.
Dickinson said every decision is site specific, including the correct designation of this road, but if the Browns Park landowners were to start challenging the legality of county roads, "that sword cuts both ways.
"Without county roads, not a one of you would have access to your land, so while this decision is only for this area, it could have serious effects in other areas."
The Commissioners said the county attorney will look at the records and make a recommendation to them, and that another meeting would be called.
"Believe me, if we do not have to become involved in this dispute, we will not," Raftopoulos said. "But the problem is this road is on our records, and we've been asked by Dr. Tempesta to deal with a road that is shown to be our responsibility."
The growth of Moffat County is not explosive as it is in some areas, but the same issues are beginning to become causes of conflict in the area
"These are very complex issues, and we'll do our best to make each decision fairly, but unfortunately whatever decisions we make, someone is usually unhappy," Raftopoulos said.