Three teams, three days and 23 games.
That was what Coach Craig Mortensen and his Lady Bulldogs saw Thursday though Saturday at the Rangely tournament.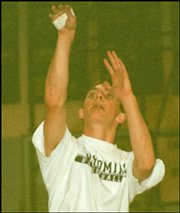 It was a tournament that didn't see the Moffat County varsity squad lose a game until Saturday when the seniors did not play, because they returned home to take the ACT exams.
"We really had a good tournament with our seniors, and the underclassmen continued to step up in their roles when the seniors were gone," Mortensen said. "Of course, we did lose two games after the seniors left, but the younger girls did put in some tough games."
The underclassmen were thrust into the Saturday portion of the tournament against the cream of tournament's crop.
After the seniors went undefeated during the Thursday through Friday, the younger girls were only able to walk away with one win on Saturday, but they still held their own.
The Lady 'Dogs' primary competition came from Class 5A Fruita and Utah's St. George High School, which is from a class similar to Colorado's Class 5A schools.
Other than the two larger schools, the tournament was mainly comprised of Class 2A and 3A schools.
"Rangely isn't really a high-level tournament, but it gives us a chance to continue to improve and just get out on the court," Mortensen said.
Last weekend's lower-level tournament in Rangely will be followed with the Weber Tournament in Weber, Utah Friday and Saturday.
The Weber Tournament is expected to draw schools from across Utah and Colorado, and will be split into different skill sections. Coach Mortensen will travel three teams to the tournament, and has requested that his varsity play in the highest division.
"We beat Fruita by 40 points at Rangely, which really doesn't do us any good in the way of improving," he said. "Hopefully, at Weber we'll play some closer games, because that's where you improve."
A weekend of close games is what Bulldog's basketball coach Blaine Corlett was treated to at the Grand Junction Triangular.
Moffat County, the only Class 4A school in a field of 5A teams, was able to pull out one win, but fell in two, close losses.
The 'Dogs beat Grand Junction High School, but fell to Fruita and Grand Junction Central.
The showing may seem mediocre by most standards, but to Corlett, the team's play is right on track.
"We played nothing but larger division schools at the tournament, and hung with them the entire time," Corlett said. "The most we lost by was 15 points."
The exposure to larger teams, regardless of wins and losses, is what Corlett looked for at Grand Junction, and subsequently was what he found.
"We want to play the teams that are going to make us earn our wins, and have the depth to tire us out," he said. "That's the only way a team becomes better, and that's by pushing themselves against teams that, in most cases, compete in big leagues."
Friday and Saturday, the 'Dogs will not be wanting for competition. The Rangely Tournament will find two larger out-of-state schools trying to flex their muscles in Colorado.
Vernal, Utah and Green River, Wyo. will both travel to Rangely, and will be the primary competition for the 'Dogs, with the rest of the six-team field being made up of Class 3A schools.
"We're on the right track now, and we need to keep it that way," Corlett said. "The seniors are still leading the team, and the underclassmen are still stepping up into their roles. What we need to do is make sure everything keeps moving in that direction."