Kathleen Taylor will begin serving as Moffat County attorney Thursday, but she won't be alone. The Moffat County Commissioners voted 2-1 Friday to hire a full-time legal aide to assist Taylor with her new duties.
Awaiting her is a substantial amount of work that will require her attention. The issues range from amending resource and airport leases to researching road designations and monitoring the runway, plus the regular duties the new position will encompass, such as consulting with county departments.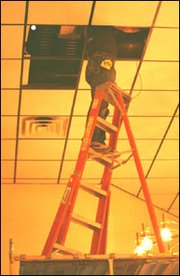 The legal assistant will help Taylor with research, data organization, correspondence and other work.
"If Kathleen did not also have to work with social services, I would be in favor of hiring someone part time, but since she will be covering social services, I believe Kathleen needs a full-time assistant," Moffat County Commissioner Marianna Raftopoulos said. "Tom Thornberry advises us to hire a full-time assistant for this position's responsibilities and demands. There is quite a lot of research involved with some of the issues, and that work is very time consuming."
Moffat County Commissioner Les Hampton disagreed.
"My position hasn't changed. I believe we should move into it by hiring part time, see where we go, and in six months see what needs fixing," Hampton said. "I'm opposed to hiring full time staff and finding out after it's too late that we're only utilizing 40 or 60 percent of that employee."
T. Wright Dickinson was undecided on the issue, but finally voted to approve the new hire.
"Originally, I agreed with Les, but after a conversation with Tom, I believe a full-time staff member is necessary," Dickinson said. "But Les' point is valid, and even though I favor a full-time assistant, there are two points that concern me. I don't want the legal department creating work to justify itself, and I don't want the county attorney to become the main decision maker."
Dickinson told Taylor he wanted her to give legal advice, but to defer the final decision to the commissioners when the question concerns policy.
"I want you to pull back and say 'No, that's a policy decision. I can give you facts and what the law says, but it has to be your call,'" Dickinson told Taylor.
Taylor agreed.
"I will be giving options, possibilities for answers and the legal aspects of questions, but the final decisions will be the Commissioners'," Taylor said. "I know when I begin working, there is going to be a lot of time used for setting up, and there'll be a learning curve as I am exposed to my responsibilities.
"The projects in the beginning will require more than just me, but after those are completed, I'll be the first to say if I'm not using someone, and that they're available for another project."