Summer is the down season for Gym Gem Gymnastics, with no real competitions scheduled, but that hasn't stopped the young gymnasts from continuing their practices.
"The summertime is more of a fun and relaxed time for us," Gym Gem Gymnastics instructor Ceresa Grammar said. "It's nice, because in the fall I have to handpick the kids who are going to compete."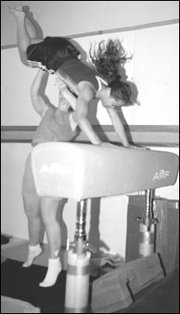 The program offers young gymnasts the opportunity to either participate for fun or competition.
The competitive section of the year-round gymnastics program begins in early September, and continues through the middle of December.
All of the meets the gymnasts compete in are sanctioned by the U.S. Association of Gymnastics, and are only open to those who have reached certain skill levels.
"We work off the Fun and Fitness Gymnastic Program, which is divided up into 10 different levels," Grammar said. "Each level has around 30 skills that a gymnast must show proficiency in before they can move up to the next level. The program is run that way until level four, and once they've gotten there, they have to compete to advance."
The coaches' discretion is used to gauge the advancement through the early levels of the program.
For Gym Gem Gymnastics vaults and balance beams are not the only equipment on which the children will become versed.
Luda Dudchenko, a former member of a Russian dance troupe, has added the dimension of dance to the regular practice schedule at the gym.
The primary style of dance Dudchenko incorporates into the gymnastics program is ballet, which lends itself well to many aspects of gymnastics.
"The dance skills that Dudchenko teaches really help in such sections as the floor exercise and balance beam routines," Grammar said. "It also comes in handy when the kids have to design their own routines in the higher level of the competitions."
Competitions are not the central focus of the program, rather, it looks to create a positive experience for the children.
Spring and summer are the prime time for the non-competitive sections of Gym Gem's schedule, with practices being the main focus. However, in the spring, the students travel to competitions which are designed to be nothing but fun.
"The spring gymnastics meets are meant to be fun for the kids and build their confidence," Grammar said. "Everyone who competes is awarded a ribbon, no matter how well they did. That's what I think the program should be all about a real confidence builder."