Finding a hotel room or a seat in a restaurant may be quite a challenge this week, as the Future Farmers of America flood into Craig for their annual State Convention.
The convention, which begins tonight, brought more than 1,200 FFA members from across the state, as well as their families, friends and show coordinators.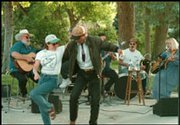 Because of the large number of visitors, finding a place to sleep or eat might be a problem.
"We're full," said Sherry Schwindt, guest services agent at the Craig Holiday Inn. "It started with a few people starting to come in on Sunday, but by yesterday morning, we were all filled up. We aren't going to have anything open until probably Sunday."
With most Craig hotels filled to capacity, visitors must attempt to locate the nearest vacancy, and that may take a little work.
"We're completely full over here," said Colin Murphy of the Steamboat Holiday Inn. "It's rather unusual for us not to have any rooms available on a Tuesday night in June. I know that we have a few of the high school students who have had to come over here from Craig to find a place to stay."
The shortage of hotel rooms doesn't surprise Colorado FFA State Advisor Ricky Sellers, and although hotel space is limited, that doesn't mean Craig is not equipped to deal with hosting a convention of this size.
"I know that there are people staying in Craig, Hayden and Steamboat," he said. "As far as I know, all of the hotel rooms in Craig are full, and have been for quite some time. Regardless of that, Northwest Colorado, Craig in particular, is still a great place to host a convention.
"There is a large focus on rural activity, and a lot of opportunities to see the different kind of farming that takes place in this corner of the state. I think it is a good chance for some of the members who are from the Front Range, to see what is going on over here."
As of Tuesday evening, the only motel in Craig reporting a vacancy was the Black Nugget Motel, who still had four rooms open because of guests who made reservations and did not show up.
But, most weren't experiencing that problem.
"We have been booked solid for this week for the past 11 months," said Ron Ringhand, owner of the Best Western Bear Valley Inn in Craig. "As soon as they announced where the convention was going to be held, we started to get phone calls of people wanting to make reservations.
"We are probably not going to have anything open until later in the weekend because, as it stands now, we are completely booked through Saturday," he said.
Local restaurants are feeling the rush of visitors as well. Village Inn is calling in extra people throughout the week to help deal with the increased number of customers.
"From the looks of things, it appears as though we were fairly busy, especially last night," shift manager Bonnie Green said. "The number of people on the schedule has been increased, so we are going to do our best to handle the extra number of people that will be in town this week."