Friday and Saturday for the Moffat County girls and boys basketball teams served as a changing of the guard, and it was smooth change.
Both teams yielded six wins and no losses in the first tournament of the summer season, held at the high school gym. It was also the first time both teams played without the graduated seniors.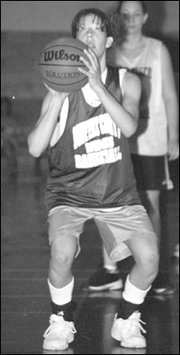 Names such as Kevin Voorhees and Emily Mortensen no longer grace the rosters of Moffat County, but the younger players replacing them have lessened the deprivation.
"As a team we've moved past the loss of the seniors, and this weekend we did fine without them," senior point guard Kyle Hazelwood said. "We're still a little shaky in some areas of our game, but the underclassmen know what they're doing, and have accepted their roles."
The tournament attracted a number of freshman, junior varsity and varsity teams from 13 different schools.
The majority of the schools were from the Western Slope, except for Rock Springs, Wyo., and Wasatch High School from Hebren, Utah, which both traveled in for the girls tournament.
The games were run on a 40-minute, continuous clock, and each team that entered the tournament was guaranteed six games. The Moffat County teams faced Class 3A schools, with the only exception being two of the boys games, one against 5A Grand Junction, and the other against 4A Rifle.
The teams have taken the first steps toward successful seasons, but the coaches have not let the early triumph cloud their vision. They also have not they let the rapid incorporation of the younger athletes into the varsity system do the same.
"People hear that you're going to only lose two seniors and they automatically think that your going to be good. In our case, we have to replace two seniors, each started three years and were both leaders," Coach Craig Mortensen said. "What we have to do is find replacements for the seniors, find new team leaders. But, I'm very confident that we have the girls to step up into the roles."
The Bulldogs and Lady Bulldogs have a month to find the leaders they seek and will continue the quest next weekend.
The boys will travel to Grand Junction Central High School for a varsity-only, triangular tournament on Friday.
The girls will travel their varsity, junior varsity and freshman teams to Rangely Thursday through Saturday. Rangely has 18 spots open for schools to enter, though it is not yet known how many will attend.
One thing is known, though. Despite the fine tuning and the search for replacements in leadership positions, the high spirit of the coaches and athletes hasn't been lessened after last weekend's performance.
"We've got a long way to go, but we played surprisingly well," Coach Blaine Corlett said. "We played at a much higher level than I expected at this point in the summer, which is nothing but good news."