Engagement
Nichols and Ashbrook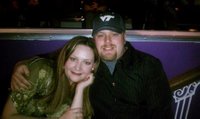 Ella Korthas, of Aurora, is pleased to announce the engagement of her daughter, JonEll Suzanne Nichols, to Lance Noel Ashbrook, son of Lance Ashbrook, of Rockville, Md., and Penny Ashbrook, of Fredericksburg, Va.
The future bride recently graduated magna cum laude from Regis University with a bachelor's degree in accounting. She is currently a writer of fiction.
The future groom received bachelor's degrees in chemistry and physics from Virginia Tech. He is currently a graduate student of chemistry at Colorado State University.
A September 2012 wedding is planned at the Golden Horseshoe Inn in Stanardsville, Va.
The couple will reside in Northglenn.