Engagement
Lee and Weeldreyer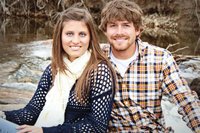 Wes and Melanie Lee, of Baggs, Wyo., are proud to announce the engagement of their daughter, Kristin Brooke Lee, to Sam Conroy Weeldreyer, son of Doug and Kay Weeldreyer, of Hamilton.
A June 22, 2013, wedding is planned for the Lee residence in Baggs, Wyo.
The couple will reside in Baggs, Wyo., with Sam's son, Trey Weeldreyer.