Anniversary
Henderson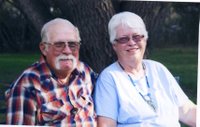 "Marriage is like a garden — with love and tender attention it will flourish with abundant beauty."
The children of Ralph and Marilyn Henderson warmly invite the public to share in the celebration of 50 years of a marriage still in bloom.
J.W. Snacks will be hosting an open house from 1 to 4 p.m. Saturday, July 21, 2012, to commemorate their lives together as husband and wife.