Engagement
Kawcak and Virden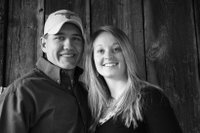 Frank and Reneta Kawcak, of Craig, and Courtney and Heidi Virden and Scott and Whitni Reid, of Craig, announce the engagement and upcoming wedding of their children, Brittni Laine Kawcak and Kelby John Virden.
Brittni and Kelby are 2004 Moffat County High School graduates. They live in Craig.
The couple is planning a June 11, 2011, wedding in Craig.