Engagement
Hampton and Lingo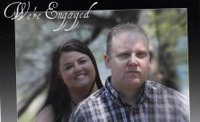 Tiffany, Aunnika and Keenan would like to announce the engagement of their parents, Teisha Ladawn Hampton and Steven Dale Lingo.
Teisha is the daughter of Billy and Michelle Hampton, of Craig. She is a 2000 Moffat County High School graduate and is currently the patient access lead at The Memorial Hospital in Craig.
Steven is the son of Kristine Barstow, of Craig, and the late Gary Lingo. He is a 1995 graduate of JFK High School in La Palma, Calif., and is currently employed by Tri-State Generation and Transmission Craig Station.
The couple is planning a September wedding.