Engagement
Vermeulen and Tamucci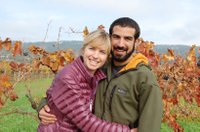 Laura Vermeulen and Christopher Tamucci announce their engagement and wedding July 2, 2011, at the Stanton family ranch in St. Helena, Calif.
Laura, originally from St. Helena, is the daughter of Leslie Stanton and Laurence Vermeulen, and the granddaughter of John and Barbara Stanton, Jacklyn Six Gilson and Laurence Wakefield.
She graduated from St. Helena High School in 2001 and California State University, Humboldt in 2005 with a degree in art education.
She later obtained her master's in art education from Colo-
rado College in 2009. Laura is the creative services manager at the Craig Daily Press.
Chris, originally from Fairfax Station, Va., graduated from Lake Braddock Secondary School in 1997. He obtained his MBA from CSU, Humboldt and works for Big Agnes and Honey Stinger as the international sales manager in Steamboat Springs.
He is the son of Mary and Joseph Tamucci, of Cape Cod, Mass., and grandson of the late Anthony and Caroline Tamucci, and George and Mary Sarkes.
The couple will live in Milner with their dogs, Trinity and Frida.