Anniversary
Dickinson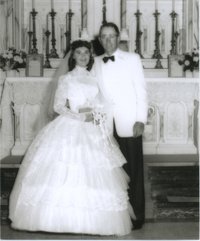 Polly Radosevich, daughter of Amelia Radosevich and the late George Radosevich, Jr., was joined in marriage to Dick Dickinson, son of the late A. Wright and Margaret Dickinson, on July 2, 1960, in Rock Springs, Wyo.
The wedding took place at SS Cyril and Methodius Catholic Church by the Rev. Albin Gnidovec and the Rev. Gerald Sullivan.
Attendants were Polly's cousin Neldine Angelovie and sister Veronica Radosevich, and Dick's friends Bob and Mike Arambel, and Dr. Robert Graves, of Fort Collins.
Fifty years later, Polly and Dick live and ranch northwest of Maybell in the Browns Park area with their children, T. Wright, Jean and her spouse, Jake Lytle, Dee Dee, and March and his spouse, Gerda.
They have three grandchildren, Kate, Ira and Ian.
The couple, their friends and family will celebrate this fall.
Anniversary
Kendall
Richard and Gayle Kendall, of Craig, are celebrating their 35th wedding anniversary from 2 to 5 p.m. Aug. 7, 2010, at the Church of Jesus Christ of Latter-day Saints in Craig. The public is invited.
The couple was married Aug. 23, 1975, in Craig. They will be joined by children Jason (Janina), Kendall, Jamie (Bill) Jones and all of their adopted children.