Wedding
Nottingham and Miller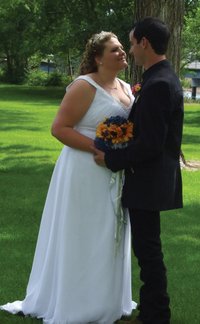 Laura Nottingham and Zachary Miller, of Lander, Wyo., were married June 31, 2010, in Thermopolis, Wyo. Moffat County Sheriff Tim Jantz officiated the service.
Laura, a Meeker native, is the daughter of Barbara Dawn Nottingham and the late Robert Nottingham. She works at Lander Regional Hospital.
Zachary, who is from Lander, is the son of Lisa and Dan Lee, of Reno, Nev., and Mark Miller, of Lander. He works at Rodney's Collision and Customs Center.
Katy Nottingham was Laura's maid of honor, and Andrea Larson, Erin Rusterholtzs, Abbie Irvine and Lacie Harmelink were her bridesmaids.
Brook Bekken was Zachary's best man, and Andrew Davis, Bill Miller, Eli Miller and Cassidy Irvine were his groomsmen.
Other guests were Carly Merrell, who was the flower girl, and James Nottingham, who was the ring bearer. Emmett Nottingham, Laura's brother, gave her away.
A reception took place in Thermopolis, following the wedding.