Engagement
Ramsey and Buckley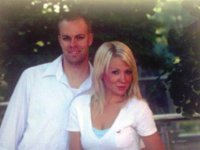 Stephanie Ramsey and John Buckley, of Fort Collins, announce their plans to marry on Sept. 1, 2010, in Estes Park.
A reception at Della Terra will follow the ceremony.
Ramsey is the daughter of Steve and Debbie Ramsey, of Johnstown. She is a 2006 graduate of Roosevelt High School, and is employed as a certified pharmacy technician at Good Day Pharmacy.
Buckley is the son of Jay and Linda Buckley, of Craig. He is a 2002 graduate of Moffat County High School, and is employed as a directional drilling engineer for Scientific Drilling International.