Engagement
Grinolds and Voyek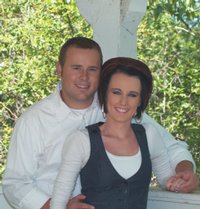 Kayloni Grinolds and Tyson Voyek are happy to announce their engagement. The couple was engaged in April in Maui, Hawaii.
Kayloni is a 2006 graduate of Moffat County High School and is employed at Wildhorse Salon in Steamboat Springs. She is the daughter of Kelly Grinolds, of Craig, and Cindy Biskup, of Mesquite, Nev.
Tyson is a 2002 graduate of Steamboat Springs High School and is employed by Voyek Masonry of Steamboat Springs. He is the son of Jeff Voyek and Kim Johnson, of Steamboat Springs.
Kayloni and Tyson will be married in June 2010 in Mesquite.